Swearbox Blog
Apr 30
[video]
Nov 22
Stooshe team up with Swearbox for Beatbullying

Do you react to social media trolls with a flurry of four-lettered foul words? Do your frustrations of the day manifest themselves in an outpouring of bad language?
No strangers to explicit language themselves, the boisterous, mischievous, outgoing and witty trio StooShe may well have the solution. They've teamed up withhttp://charityswearbox.com/to offer a new Twitter tool that monitors your most potty-mouthed Tweets. Upon registering, users can choose a sum that will be donated to a charity of their choice every time their Tweet contains an expletive. At the end of the month, these transgressions will be tallied up and the user will receive a suggested charity donation to place in this virtual swear box.
StooShe's debut single 'Betty Woz Gone' caused a huge stir when its accompanying lyrics video was unveiled last week. Within a day, the video had been viewed over100,000 times, making it YouTube's most viewed music video in the UK and the 14thmost viewed in the world. Retweeted by the likes of Ed Sheeran, Rizzle KicksandWretch 32, it prompted Time Out to describe them as "A fresh voice in UK R&B." The single is now set to be released on November 28th on Warner Bros. Records.
BEATBULLYING
Beatbullying works with children and young people across the UK to provide them with all important opportunities to make positive and lasting changes to their lives and outlook. In particular, we work intensively with those so deeply affected by bullying that they can barely face going to school that next morning. We aim to make deep changes in attitude of those young people that bully, working with them to take responsibility and a sense of ownership over their actions, building foundations for change and improvement in their life chances and opportunities.
Nov 16
MTV Act article on Swearbox: Tyler the Creator's bad mouth -
Oct 16
[video]
Our featured charity: 50/50 for Famine Aid
Swearbox are so VERY pleased to announce that we have teamed up with the amazing 50/50 project to raise donations for famine aid.

Tim, the lead man, the saintly man; has been kind enough to get us involved with his amazing idea - to get 50 projects up and running within 50 days. Madness? You bet. But isn't it just brilliant? 
It's being described as a 'Digital Live Aid': To Launch 50 Web Based Fundraising Projects in 50 Days in 8 countries then raise £1million for famine relief in East Africa.
Right now in Somalia a child is dying from starvation every six minutes. UNICEF is currently delivering life-saving support in health and nutrition, water, sanitation and hygiene and child protection, but they need more help fundraising.
We've almost got 50 fundraising projects on 5050.gd, most of which will be live by this Sunday, United Nation's World Food Day. The projects are experiential, participatory and let you do something more with your online influence than just 'like' brands. It's all about finding the project(s) that's right for you and being a part of it. 
THE BACKGROUND
50/50 was first hatched by Good for Nothing and Made by Many about 6 weeks ago. A tweet to Good for Nothing from Virgin Unite started the ball rolling; a few Skype conversations, followed by some email exchange and a couple of beers later resulted in: a crowd-sourced call for ideas, a hack weekend, and several late nights and weekends juggling making in between paid/client work. The platform has been open to everyone for the last 50 days, its success now will be entirely down to individuals and media getting involved.
WHO'S BEHIND IT *NEWS JUST IN!*
We are truly grateful and excited to tell you that the beautiful (and clever) actress/model Lily Cole is keen to help raise the project profile and funds through donation of clothing to a re-use auction.
Fallon London, Flat Nose George & The Chemical Brothers have kindly agreed to support us and sent us this statement:
Fallon have teamed up with Ed & Tom from the Chemical Brothers and their genius collaborators Flat Nose George's Adam Smith & Marcus Lyall, to create an exclusive piece of digital content.
Supporting Good for Nothing's 50/50 Make or Break campaign (http://5050.gd/) - a creative collaboration to kickstart 50 projects in 50 days to raise £1m for the East Africa Crisis, the track is a new mix of the Chemical Brothers' classic track 'The Boxer' and features bespoke visuals created by Flat Nose George. Flat Nose George (www.flatnosegeorge.com) are currently busy collaborating with The Chemical Brothers on the live feature film 'Don't Think' which will be out early next year.
-Watch the track, donate to the campaign and own a little piece of digital art forever at http://www.fallon.co.uk/5050
Flat Nose George, please visit www.flatnosegeorge.com and http://mlstudio.co.uk/



THE BOTTOM LINE, WHERE IS THE MONEY GOING?
50/50 are very proud to be fundraising for UNICEF. 100% of the money donated to a 50/50 project or the platform goes direct to UNICEF for life-saving support.


From UNICEF….
"Right now, a child is dying of hunger in Somalia every six minutes. And unless we do something about it, children are going to carry on dying. It's simple. Children are hungry. We're not. They have no food. We do. So it's time to share what we have. This is just what the brains behind 50/50 are doing for UNICEF and the children of East Africa and we are thrilled to be a part of this digital fundraising revolution. Just £5 could provide a child with life-saving food for a week so the potential impact of this collaborative experiment is immense. We hope that the word spreads fast, that the message is shared and that as much money is possible is raised in order for UNICEF to help as many children as possible."

www.5050.gd @5050good #5050good
Article: 50/50 Talk Swearbox
The incredible 50/50 project has been talking about our partnership with them on the blog.
The 'other' Twitter sweary-thing on 5050 is the brainchild of James Dow. The Charity Swearbox is a platform that he and co-founders Jay Gelardi and Rameet Chawla have been working on for over a year. We were really chuffed that they decided to make 5050 their first charity project – but their platform is intended to facilitate the running of many campaigns: it's a brilliant charity start-up idea.
Oct 07
A generous article from the team at Do the Green Thing an excellent social enterprise aimed at raising awareness and giving you daily tips to reduce your impact on the environment. 
Swearing is not big and it's not clever. But now it's good. Charity Swearbox is a clever little Twitter gadget that checks your tweets for every bad word you send out into the world. And their virtual swearbox means that every time you swear, you donate money to a charity. So really, the more you swear, the more you care about helping others. Simple! And bloody clever.
Oh, damn.
Huffington Post Impact Article -
A great article about Swearbox on the Huffington Post Impact blog. Warm words and kind press from this great site.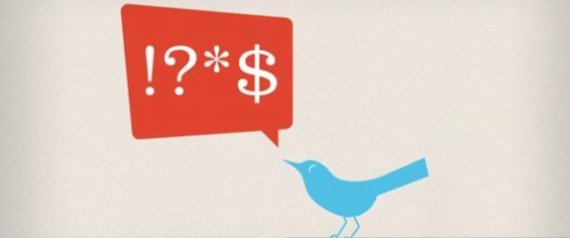 Twitter stars, such as the loose-lipped fake @MayorEmanuel and feisty Canadian mom@KellyOxford, are known for letting expletives fly on the microblogging site. Now, those who like to vent in a similar four-letter-fashion can put those bad words to good use.

The online Charity Swear Box is the modern-day version of the office swear jar, asking people to hand over their pocket change as a consequence for letting curses slip.

Click the header to view the article

"

Swearbox Launches to a foul-mouthed ovation.

Put all your twitter profanity to good use with Swearbox, a whole new way to donate to charity.

We all know what a swearbox is; say a bad word, and put a coin in a tin, but what about all the filth that gets spouted ever day on Twitter? Well, that's where Swearbox comes in. Swearbox is a positively-minded venture that turns bad words into a good deeds.

Founded by James Dow (London), Jay Gelardi (Sydney), and Rameet Chawla (New York), Swearbox is a donation-based site that provides Twitter users with a way to right their verbal wrongs. Over a year in the making using spare time, coffee and a lot of passion it's finally live.

Simply log on to CharitySwearbox.com where the clever little app recognises all of your recently tweeted swear words, and suggests a reasonable donation. Or, if you've been good and not sworn at all, you can let rip with a swear-filled tweet right there in the app. Then you simply select from a list of charities and donate via Paypal.

Those that choose to connect their Twitter account will receive a monthly email with a tally of all their bad words, so the good keeps on spreading. Over time, the list of charities will also grow, so interested charities please get in contact.

Finally there's no need to hold back on Twitter, you can swear your filthy little face off, safe in the knowledge that it's all for a good curse. Fucking marvelous.

http://www.charityswearbox.com

Swearbox is a not-for-profit organisation whose sole purpose is to raise donations for a wide range of charities.

Swearbox has no affiliation with the mentioned charities but raises money for their cause.

"

[video]
What's all this shit about swearing?
Welcome to the Swearbox blog. We will endeaver to keep you abreast of all the swearing, news and developments of Swearbox as we go on this great journey.
Thanks for visiting and we hope you have a good time with our site. 
And remember… It's for a fucking good cause.
Welcome to our Instagram feed